Where can you find that elusive spark of inspiration to fuel your brand design? We've scoured the digital landscape to bring you five places where creativity runs wild and brand design dreams come true.
Hopefully these captivating platforms will leave you brimming with ideas. Let's dive in!
Behance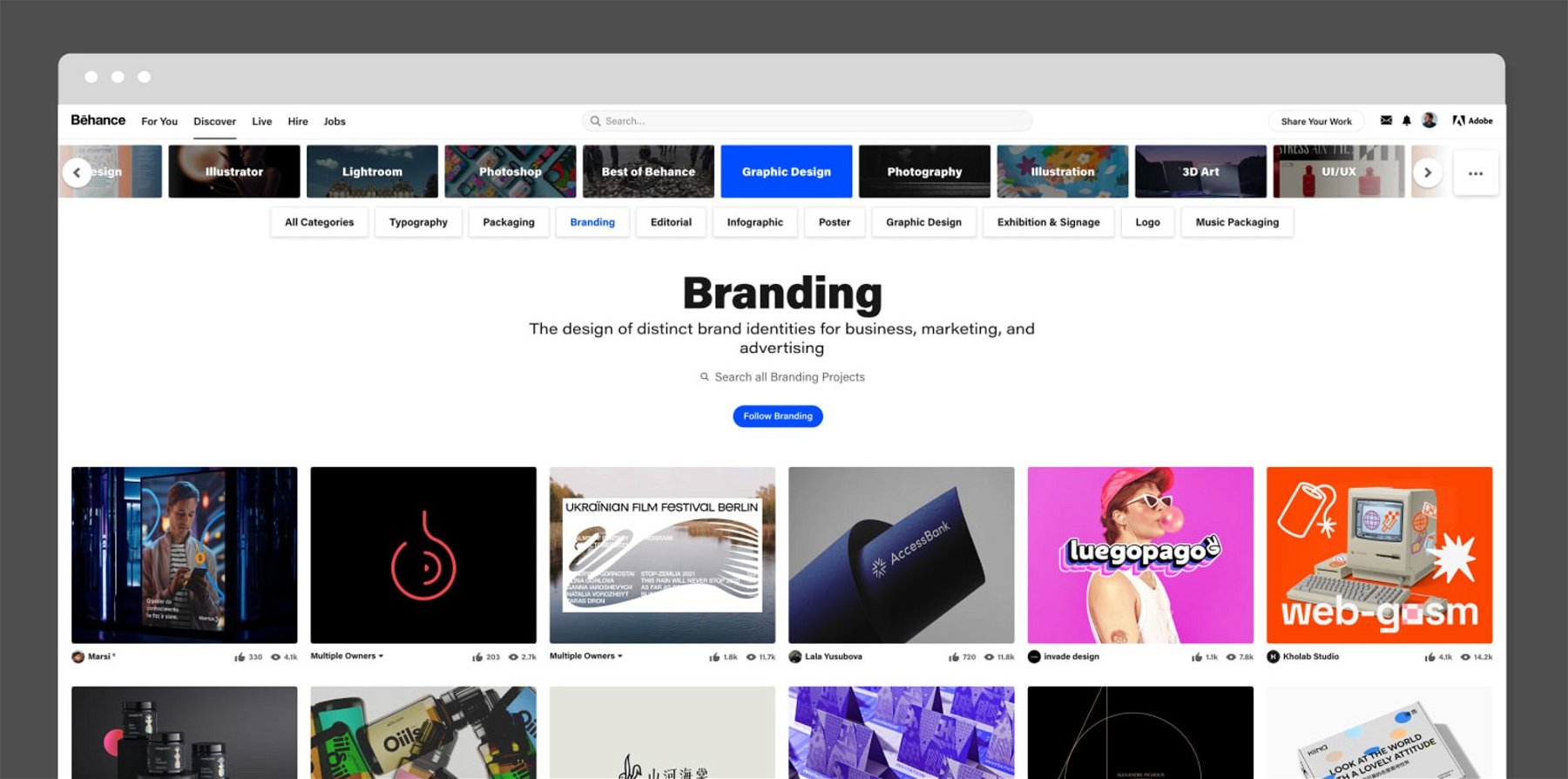 Step into the artistic wonderland of
Behance
, a virtual treasure trove where talented designers showcase their extraordinary creations. From stunning logo designs to captivating typography and awe-inspiring visual branding, Behance is a playground for the imaginative souls. Feast your eyes on a wide array of designs and discover the perfect inspiration to elevate your brand's aesthetic. Take a peek at Airbnb's rebranding, a true testament to the power of a fresh and dynamic visual identity.
Dribbble
Ready to go down a design inspiration rabbit hole? Look no further than
Dribbble
, a thriving community that fuels the flames of creativity. Explore a rich tapestry of logo designs, UI/UX concepts, and illustrations that will make your heart skip a beat. Dive into the redesign of Mailchimp's brand, an excellent example of how to infuse modernity and playfulness into your visual identity.
Pinterest
Imagine a virtual mood board that opens the door to limitless creative possibilities. That's
Pinterest
for you. With its diverse collection of visual content, Pinterest has evolved into an oasis of inspiration. Discover enchanting mood boards, captivating color schemes, and delightful typography combinations that resonate with your brand vision. Uncover the magic of Coca-Cola's Pinterest page, where their iconic branding takes on new life in a myriad of creative contexts.
LogoLounge
If logos make your heart race, then
LogoLounge
is your haven. This dedicated platform showcases thousands of logo examples crafted by talented designers worldwide. Dive into a sea of logo styles and trends, allowing your imagination to run wild. Explore by industry, color, or keyword, and uncover the logo that will become the face of your brand. Behold the ingenuity of the FedEx logo, a shining example of how negative space can create unforgettable impact.
Designspiration
Prepare to be captivated by the alluring charm of
Designspiration
. This curated gallery houses a mesmerizing blend of design inspiration, from awe-inspiring branding and typography to breathtaking photography and architecture. Immerse yourself in a visual feast that sparks the creative genius within you. Build your brand design mood board and let the simplicity and versatility of Nike's brand identity guide you towards design greatness.
Now that you know where to find the wellspring of brand design inspiration, it's time to let your creative spirit soar. The key lies not only in seeking inspiration but also in infusing it with your unique brand essence. Let these vibrant platforms inspire, excite, and propel you towards brand design excellence. Embrace the journey, and may your creative spark illuminate the path to a remarkable visual identity.
Happy exploring and designing.